---
Samstag 8. Mai
15 - 17.30h 
In diesem Workshop werden wir den Atem und den Kontakt zu deinem Zentrum und Beckenboden erkunden und vertiefen. 
Dadurch kannst du in deiner Ashtanga Yoga Praxis mehr Leichtigkeit und Tiefe erleben - das Üben wird immer mehr zur Meditation und zur achtsamen Reise zu dir Selbst.
Für alle mit etwas Ashtanga Yoga Erfahrung!
Kosten: 35€ / 30€ erm.
Anmeldung bitte bis mind. 1 Woche vorher!
---
---
22. & 23. Mai 2021
Saturday  10 - 17h
Sunday 9 - 16h
(each day theory + practice with 1hr break for lunch)
A weekend-long workshop designed for anyone interested in body and energy work. Students will learn the foundations of the traditional floor-based Shiatsu method.
You will learn to:
Give safe and effective shiatsu to friends and family
Integrate new techniques into a pre-existing massage practice
Understand the core principles of Taoist philosophy
Develop awareness of Qi (energy) and enhance its movement within the body
COURSE COST: 185 € (payment due to 23/4/2020)
EARLY BIRDS: 165 € (it booked and paid in full by 30/3/2020 )
Classes in English
For sign into the course via email at info@sahayoga.eu
---
29. Mai 2021 with Danka
Saturday, 13 - 17h 
Bring a friend, significant other or just yourself and learn assisted Yoga stretching and bodywork techniques that promote peaceful connection, compassion and the therapeutic benefits of Yoga and massage. You will learn Yoga postures and techniques you can easily practice again with anyone at home!
EVERYONE IS WELCOME!
PRICE: 45 € (SPECIAL PRICE FOR COUPLES: 75 €)
Classes in English
For sign into the course via email at info@sahayoga.eu
---
Samstag, 5. Juni 2021
16 - 18.30 h
Ashtanga Yoga ist dynamisch und kraftvoll – das Ziel ist eine Meditation in Bewegung!
 In diesem Workshop bekommst du einen Einblick in das System des Ashtanga Yoga. Du erlebst die Verbindung zwischen Atem und Bewegung, lernst den Sonnengruß und den Anfang der 1. Serie und 
die Grundprinzipien des Ashtanga Yoga kennen.
Als guter Einstieg in die laufenden Klassen! Für alle ohne Ashtanga Yoga – Erfahrung.
Kosten: 35 € (30 € erm.)
Bitte bis mind. 1 Woche vorher anmelden!
---
6. Juni 2021
Sunday 10 - 13h
Learn in a playful way the fundamentals of body alignment and the use of breath, bandhas and drishtis, to properly balance on your hands and arms.
In this workshop, I will teach you techniques for practicing on a daily basis, to start building up a strong core and balance. 
This workshop is suitable for beginners and people who already practice yoga regularly.
Costs: 40€ / 30€ reduced (for Ashtanga Yoga Loft Members!)
More Information about David here!
Registration here!
---
Sunday,  13th of June 2021
10. – 12.30h
A special 75 minutes online class to learn and practice the transitional jumping vinyasa, a very dynamic movement that connects asanas and resets the body during the Ashtanga practice.  
We will go slowly from an easy version to a more difficult one, helping you to develop the required technique, strength and flexibility to deepen into your vinyasas as well as the sun salutations vinyasa. 
In the final of this class, we will also work with another kind of transition during the primary series of Ashtanga Yoga, chakrasana. 
This workshop is available for all levels and everyone who wants to deepen their practice, but is recommended to have some Ashtanga experience (ideally practicing until navasana.
Costs: 
35€ / 30€ reduced
Please send an Email to info@ashtangaleipzig.de for registration
Note: David teaches in English!
---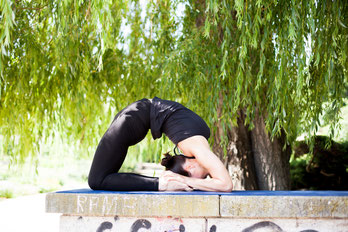 26. & 27. Juni 2021
Samstag  10 - 12.30h
Sonntag  10 - 12.30h
Die zweite Serie des Ashtanga Yoga heißt Nadi
Shodhana und reinigt das Nervensystem, genauer die Energiekanäle (Nadis) im Körper. 
Ziel ist, dass die Lebensenergie (Prana) frei im Körper fließen kann. Emotionale und mentale Blockaden können gelöst werden. 
Dieser Workshop gibt einen Einblick in die zweite Serie mit verschiedenen Varianten der Rückbeuge.
Für alle, die regelmäßig die 1. Serie des Ashtanga Yoga praktizieren.
Kosten: 75€ / 65€ erm. (auch für Yoga Loft Mitglieder)
Bitte bis mind. 1 Woche vorher anmelden!!!
---
---
Ashtanga Yoga Workshop with Vijay Kumar from Mysore, India
21. - 23. June 2019
It was a great Workshop! Thank you all!!! Namasté! And special Thanks to David for the great pictures!
---
Danke Christian Klix, es war sehr schön mit dir!!! Hoffentlich sehen wir uns nächstes Jahr wieder!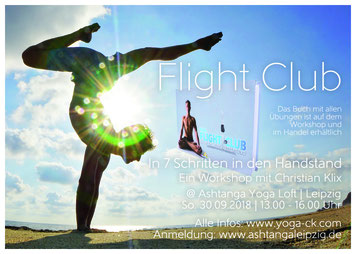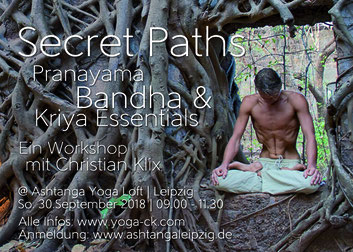 ---
Ashtanga Yoga Workshop with Vijay Kumar from Mysore, India
23. - 25. June 2017
Thank you to Vijay and all of you for the wonderful Workshop!!! Next will be in 2019!
---